I have at least a dozen mass painting projects going on at any given time, so properly organizing them is critical. Here's how I do it.
Supplies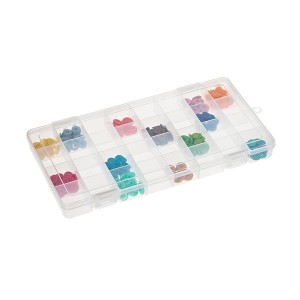 1.25″ x 36″ hardwood dowel rod from Hobby Lobby. $2.99 each at the time of this posting. You'll need 30 cylinders per box, so buy 1 rod per box, plus one extra rod. (Mathematically, you need 1.041 rods per box).
1 Package of White Simply Tacky from Hobby Lobby; 1-2 per box. $1.99 each. Blue Tack is a well known product of this type.
Hobby knife.
What to Do
Snap the lid and closures off the 32 container box.
Cut the dowels into 1.25″ long cylinders. I use a bandsaw for this, but a jigsaw, mitre saw, table saw (maybe) or handsaw (ugh!) would work.
Cut the White Simply Tacky into ~3/8″ squares with a hobby knife. You can pull the stuff apart without cutting, but it's a real hassle.
Put a square of White Simply Tacky on the top of each cylinder. If adhesion is an issue, lightly score the top of the cylinder with a crosshatch pattern with your hobby knife. Sanding with very coarse sandpaper might work as well.
Mount a miniature on each cylinder.
Use the container box to hold the cylinders. Because of the hinges on the box, two of the slots are too small for a 1.25″ diameter cylinder.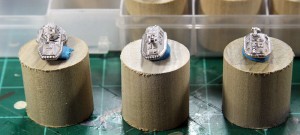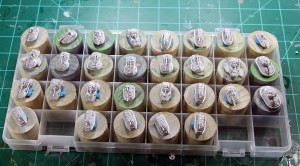 If I have to stop painting, I can put these boxes on a shelf. It also helps keep clutter down while I'm painting.
These boxes will hold GW paint bottles (though they won't close) and Testors Acryl bottles, so they make a decent paint rack. Empty Testors Acryl bottles make good alternatives to the cylinders.
These boxes are also decent 6mm storage options. They're only about 1″ tall, so they don't take up as much space as some other plastic boxes.